Jazmyne Lyons is a freshman at the Culinary Institute of America training to become a Chef. Jazmyne will be getting her associate's degree in culinary arts and then moving on to the bachelor's degree program and majoring in culinary science.
Thank you to the William Male Foundation for contributing to a crucial part of my success in the culinary industry. Thank you also for supporting the arts as a whole in a time where creativity and innovation are needed more. I am deeply grateful for being awarded this grant, your belief, and your support in my journey towards becoming a future leader in the culinary industry.
Jazmyne has been in foster care since the age of ten years old. Over the span of those ten years she has found solace in cooking at her group homes and with her foster families. Jazmyne always found cooking therapeutic and rewarding, but never thought much of it until attending the Culinary Arts program at Garfield High School. There she had the opportunity to learn from an actual chef and decide she wanted to pursue culinary arts as a career option. After her team won the
San Diego Teen Iron Chef Competition
she decided to apply to study at the Culinary Institute of America in New York where she is currently enrolled.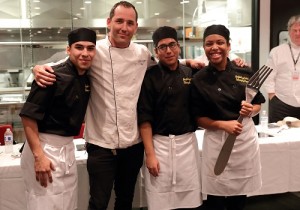 Here's Jazmyne talking about her experience with culinary arts and the William Male Foundation: